4/8 weeks at Microsoft (Internship)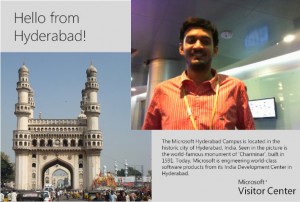 It has been 4 weeks since i arrived in Hyderabad for my internship at Microsoft IDC and it has been a unique experience. There are 7 people from MIT,Manipal this time 6 in IDC and 1 in MS IT, but manipal being the crowded place it is none of the 7 people knew each other, well except for me which was kind of odd, imagine having to introduce people who have spent 3 years in the same college to each other !!. Akshay jhori (MS IT) arrived one week before us i.e. 23rd May (i guess) and rest of us arrived by 30th May. First day we were given a small orientation, which was just to get us familiar with how things work and what we were supposed to do, after the orientation we were taken to our respective Mentors who is the go to guy for all things related to what ever we were supposed to do, i was assigned to AdCenter team. I was given a cubicle and later my mentor explained what i was supposed to do for the next 8 weeks and was asked to get familiar with MS tools and process.
Hyderabad is kind of a strange city where if you ask an auto rickshaw driver to go to a place X he will simply say "i have no idea where that place is, but it will cost you Rs100", so most of the time you need to look up on maps for directions and then tell the auto driver where you have to go, which is what we did after loosing our way few times, it all starts with Someone saying "Hey lets go out and see around" to which you say "Ok nice, lets find a good place to eat!!", after walking a few kilometers and looking around and probably eating, when its time to return someone is bound to ask "Which way ?" and atleast one guy from your group will say "Its this way, TRUST ME!" by point to a particular direction in the INDIAN WAY, believe me that is the time when you should start asking for directions because every time the "TRUST ME" incident happened with us, we were going in completely wrong direction.
Coming back to the four weeks, for the first 2 weeks we were provided accommodation in white fields (Hyderabad, not Bangalore as most the people were thinking after i told them where i was staying), the place was good and around 5-6 Km from MS IDC at Gachibowli, you get shuttles from ~9am to ~10am and if you are taking an auto just say you want to go to Wipro, Gachibowli and not Microsoft, Gachibowli you will have to pay less this way, even tough Wipro Campus is just in front of Microsoft Campus, ohh and the sharing auto is a very cheap way to travel around in Hyderabad but it gets weird, i remember there were 8 people + 1 auto driver in a single auto one time.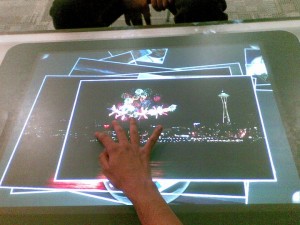 I got my hands on Microsoft Surface at the visitor center and it has increased my desire to create something like surface using what is already available by NUI Group, dunno if it will get somewhere. Also i have started to like C# as a language and i have personally found it to be more close to C++ then Java, which is not what a large number of people think, this has also made me realize that there is no computer language that i hate which is kind of strange because most of the people i know hate one or the other language and JAVA tops most of their list as the most hated (but used) language.
During my 2nd week AdCenter team had an outing to Leonia which was a great experience, i met some interesting people from AdCenter team during the trip and the best part wasPaint Ball, a match in team of 22 Vs 22 it was pure fun, well except for the friendly fire part, where i got shot in the arm from a really close distance, anyways we lost the game because of what was clearly CHEATING by other team but that is as always debatable.
After our 2 weeks were over we shifted out to a different place in White Fields itself, if someone is looking for accommodation there are plenty of places in HiTech city / Madhapur area to stay for short/long duration, we looked at a large number of places before settling for white fields because its close and we were familiar with this area now, plus the price difference was not much.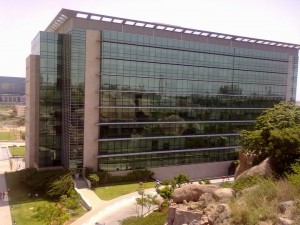 The first few weeks were pretty exciting but now after 4 weeks everything seems normal to us, all the free coffee/tea/ice tea/cold drinks/etc, all the games of pool/foosball/TableTennis, cab drop at night, the cubicle, all the excitement is gone and work has started.
anyways i am planing to roam around Hyderabad which i have done only a little, any special places that i should absolutely visit ? leave a comment….