Game On / Weekend Project III
Few weeks ago I posted about playing pong using tilt sensors on the phone, Now me and Abhimanyu have taken that to the next level and have made it a generic game controller for any game running on the computer. We faced some problems when Abhimanyu's Samsung Wave refused to work, but luckily i bought a Samsung Galaxy 3 (Android 2.1) about a week before that, so we shifted out focus on Android.
For Game On we make use of the phone's sensors and touch screen to generate different gestures and motion events, we use these events to generate control data and sent the control data over a socket to the computer over a wireless network. On the PC the received data (different for each motion event or gesture) is processed by the computer and a specific task is performed, in this case generating a Key Event.
The Code for Game On can be found on github
Here is a video of the android phone (Samsung I5800 Galaxy 3) being used to control a car racing game.
And now the working
After this we decided to work on something which i wanted to finish a long time ago (remember Weekend Project I) so we finished Weekend Project III which is well Weekend Project I + Weekend Project II
And the working of Weekend Project III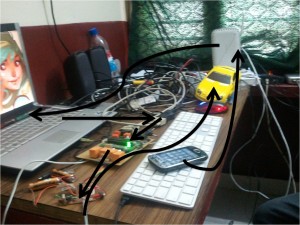 The Data Flow is Phone —-WiFi—-> PC —-USB—-> USB to RS232 Converter —-UART—-> MicroControler —-Relays—-> Toy Car Remote —-RF—-> Toy Car, which is almost same as that of Weekend Project I, except for processing of Sensor Data on Phone.
PS - if you were not able to look at the video's above they can be found here, here, here and here, also Game On won 2nd prize in Mobi Vision - a mobile application development competition